👋 Hi there! Please feel free to share this page! May all who seek love find it.
tl;dr
Looking for a serious relationship and long-term partnership!
Me: Tasshin Fogleman. Tasshin is a spiritual name, pronounced "toss shin" (🇺🇸) or "toss sheen" (🇯🇵).
Age: 29
Gender: Male
Location: Massachusetts, moving later this year to ???
Relationship status: Single
Monogamy?: I have been in poly relationships previously and have a complicated relationship with poly. I admire polyamory, and grew a lot from being in poly relationships. When I first published this dating profile I was thinking I was looking for a strongly monogamous relationship. Now I'm not so sure! Parts of me definitely want to be monogamous, and parts of me want to be polyamorous! So if our relationship starts getting serious, let's talk about where we're at and what we're wanting.
Wants kids?: This is also complicated. I don't want kids right now, and I'm pretty sure I won't want kids in most futures I can imagine. There is a world where I can imagine having kids, though, so it's not an "absolutely not" for me, just a "probably no." In the world where I have kids:
I feel that I have achieved most of the things I want to do in my own life, that having children would bring more joy into my life, and feel ready to focus on making another living being the focus of my life rather than me
I am in a secure relationship with you – someone I love, trust, and feel capable of committing to for the 20+ years it takes to raise a child into a happy, healthy, mature adult
I feel confident that together, you and I have access to the necessary financial resources to raise children, and that this is unlikely to change
The world at large has its shit together / is not on the verge of socio-economic-environmental collapse. I feel it is potentially unethical to bring a child into this world right now, at least for the values I personally hold.
Attachment style: Anxious/preoccupied, with secure aspirations 🙂 When I am in a relationship that I feel safe in, I present as secure.
About You
You don't have to match all of these descriptions – please be in touch if you feel we'd click!
Gender: I'm looking for a straight or bi woman who is AFAB and is primarily feminine but I welcome masculine sides of you as well!
Attachment style: all welcome (I'm anxious / preoccupied) but it would be amazing if you had a secure attachment style and were willing to be patient with my anxious / preoccupied tendencies. I believe that in 1-2 years of a relationship with someone secure I would move towards a secure attachment style.
Spirituality: Ideally, you have some connection to a religious / spiritual tradition and see relationships as a way to grow spiritually. Bonus points if you're a Buddhist of some kind. In any case, respecting my spiritual practice and path is an absolute requirement in our relationship.
Sexuality: you are sex-positive, love sex, and want to have a lot of it! Because sex is fun! It's how adults play, so let's play together!
Emotions and Communication: You can feel your feelings and talk about them, and listen to and be present with others while they are expressing their emotions and needs. You do / have done therapy, have mastered some kinds of introspective/self-therapy techniques, and/or are naturally skilled at emotional regulation.
Embodiment: you are physically active, and love moving your body in ways that make you feel good.
Intellectual and Personal Growth: you love to read and explore new interests. You're actively trying to develop new skills and talents in areas of your life that you care about.
Ethics: you have strong moral sensibilities. You might even enjoy wrestling with thorny ethical questions and comparing notes with others who care about ethics too!
About Me
I did Monastic Training at the Monastic Academy from 2015-2017, and from 2018-2021. I left MAPLE to explore new interests and opportunities. Some people at the MAPLE community have joked that monastic training is "husband training." 🤣 I think they're right!
Spiritually, I'm a Buddhist with interests in Daoism. I sometimes find theistic metaphors / language inspiring to my practice. I've done many meditation retreats and expect to do regular retreats for the rest of my life, which would mean I'll be away / offline / in silence regularly for part of the time (at least 1 week a year, perhaps longer / more frequently in some cases).
I am 90% heterosexual although I have sometimes considered identifying as pansexual because I can become physically and emotionally attracted to almost everyone. I usually present as masculine but I have feminine sides of myself as well and I like it that way.
I am an extremely sexual person and am hoping we have a lot of delightful sex. I find it takes time for me to adjust to having sex with a new partner but I hope to be a delightful lover to you 😀 I also really love doing tantric / Daoist sexual practices (self-taught and my competence at them is very variable) and hope to share and practice those with you.
I get really excited about my interests and projects! When I was a kid, I would check out every book that the local library had about topics I was interested in. As an adult, those obsessive / immersive tendencies are still there. You don't have to be interested in the things I'm interested in, but I love it when my partners encourage me in what I'm doing when I'm excited and cheer me on. Here's a random sampling of things I've been interested in in recent years: blogging, self-therapy techniques, strategy, note-taking strategies, movement practices, standing meditation, Tai Chi + Qi Gong…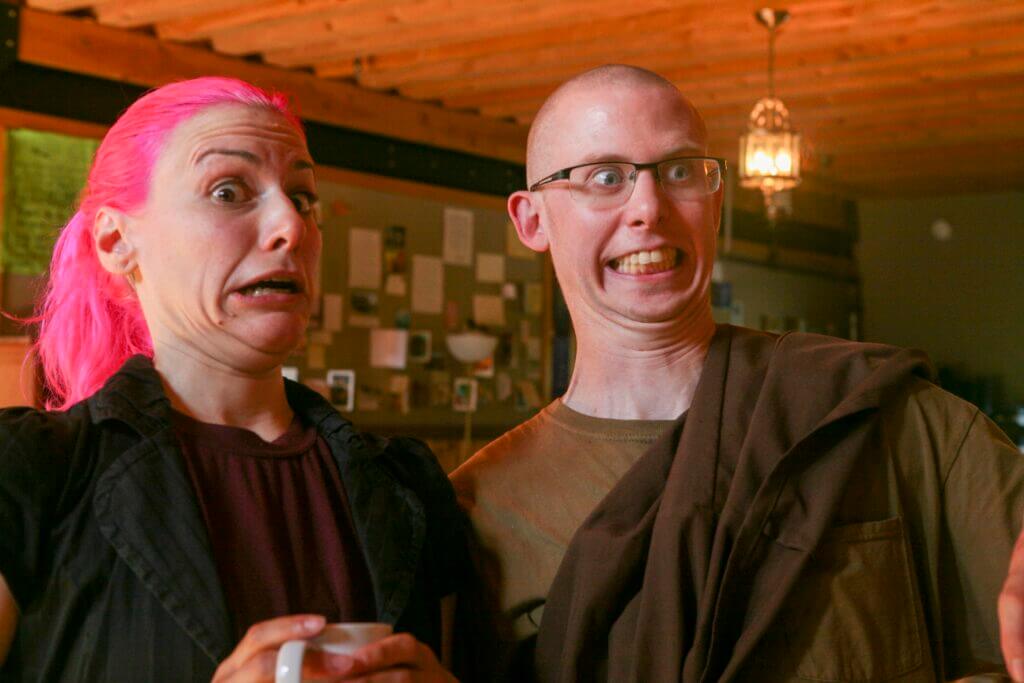 My love languages are physical touch and words of affirmation. If you tell me how hot and amazing I am while you hug and cuddle me I will feel loved for weeks and months and years.
Words that come to mind to describe myself: nerdy goofy loving kind dedicated loyal honest happy earnest gullible simple curious innocent present
Things you might not like about me, but hopefully do:
I am a vegetarian, formerly vegan
I don't drink or smoke
I don't watch movies or TV shows (they are addictive for me)
I sometimes have a hard time telling when people are joking
I am scared of anger. I'm ok with you expressing anger but verbal cruelty and/or physical/violent displays of anger are hard no's for me. I can also read anger into situations very easily and I will probably need to ask you "Are you angry at me?" a lot.
What next?
I'd love to schedule a date on Zoom! Email or DM me to let me know you're interested. Bonus points if you have an idea for something fun we could do together to break the ice 😉
Alternatively, if that feels like too much too soon for you, you can just start easing your way into exploring a connection by talking to me and/or flirting with me. Flirting is a lot of fun! 😄
Some ways to find me:
Email: tasshinfogleman @ gmail
Twitter DM (@tasshinfogleman)
This whole profile is inspired by my friends Catherio and Jillian and this template!
Thank you for reading this profile! 🙇‍♂️