Co-Authored with Luke Miller
We're launching an Anti-Book Club on Mortimer Adler's Syntopicon!
The Syntopicon is my favorite book that I've never read.
I learned about the Syntopicon while attending St. John's College, a small liberal arts college with an all-required Great Books curriculum. A friend told me that I might enjoy looking at the Syntopicon, that I might find it useful in my studies.
An American philosopher named Mortimer Adler provided the original inspiration for the Syntopicon. In his classic, How to Read a Book, he describes multiple layers of reading: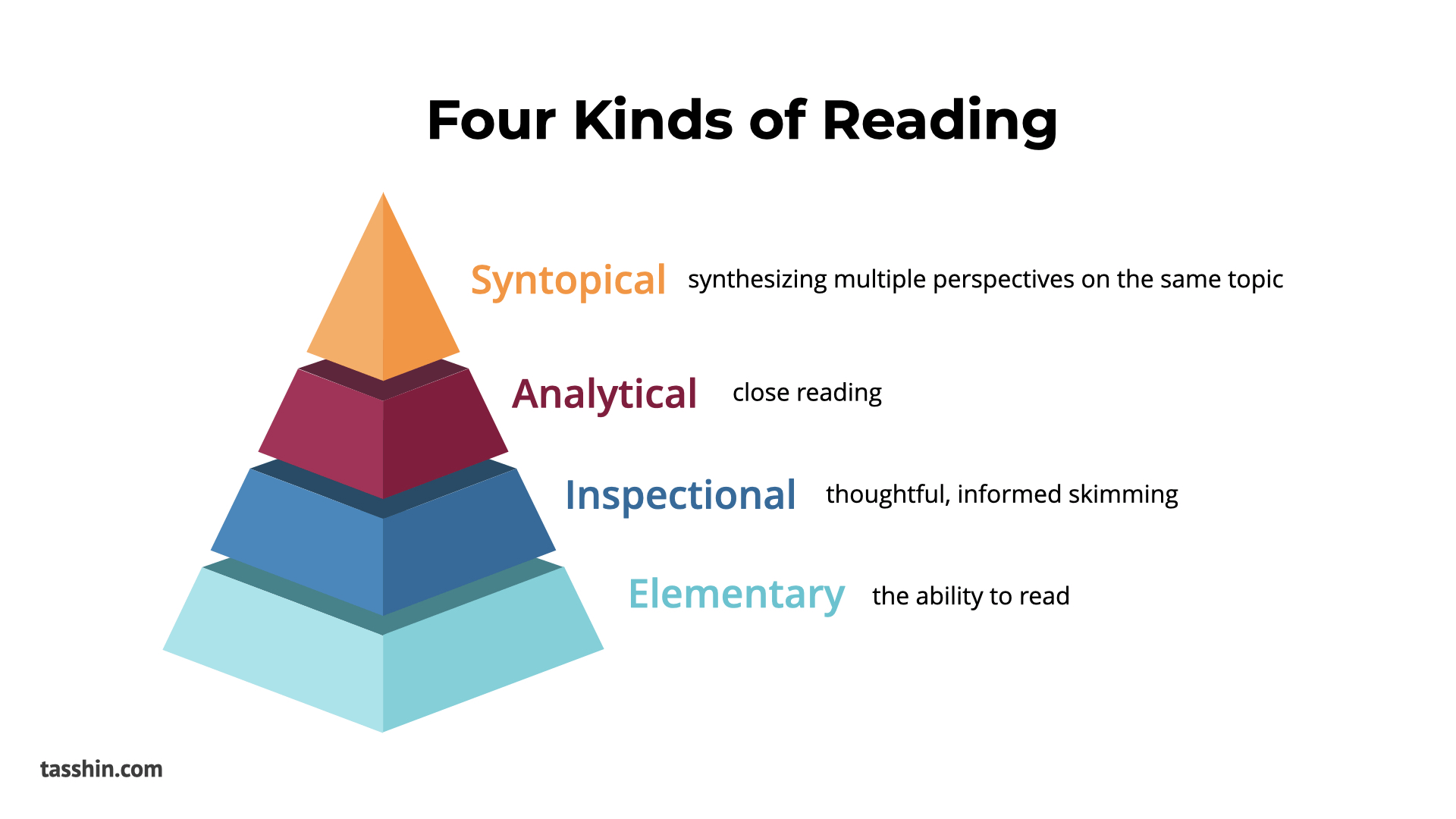 Syntopical reading is the culmination of three levels of prior skill: the elementary ability to read; thoughtful, informed skimming; and close reading. With those skills, you can learn to read multiple books with a synthetic or syntopical view on one topic as seen from multiple perspectives.
Adler envisioned the possibility of a new kind of reference book, one that shared syntopical summaries of a variety of topics foundational to Western civilization. He pitched this idea to the Encyclopedia Britannica, aiming to include it as a part of their Great Books of the Western World, an Encyclopedia Britannica collection that included a chronological list of works that started with Homer and stretched all the way into the 20th century.
Adler was given the task of cataloguing and indexing the ideas. It was a massive undertaking that took more time and money than anyone expected. Before it was completed, the Syntopicon would take 10 years, 2 million dollars, and 400,000 hours from a team of over 100 readers.
The Syntopicon contains almost 3,000 topics organized under 102 ideas. Together, they trace the fundamental problems and questions that human beings have wrestled with for centuries.
Adler and his team believed the Syntopicon contained the fundamental ideas found in the Great Books. Ideas like Beauty or Education, Religion and Good and Evil. These ideas address the questions that every one of us ask in the course of our lives.
The Syntopicon is not a concordance. It doesn't list every time these words are used in the Great Books and analyze them like a computer. Instead, it serves as a guide for tracing how people have discussed these ideas, sometimes using different language and often coming to very different conclusions.
For those involved in the project, the Syntopicon was created as an introduction to what has been called the "great conversation."
In the Syntopicon, each of these great ideas is given its own section that includes an outline of topics and a list of relevant works. But the centerpiece of each section is an essay written by Adler.
With his unique and impartial style, Adler uses these essays to introduce us to the key points of view on each of these great ideas. He doesn't take sides in the debate. He simply allows us to listen in on the conversation and then invites us to join in ourselves.
For those seeking clarity in this age of information overload, the great ideas are a great place to start.
However, in practice, the Syntopicon can be somewhat overwhelming. I've only skimmed sections of it from time to time, admiring its ambition while never really making use of it.
That's why we're launching an Anti-Book Club to create a digital form of the Syntopicon that is more useful for researchers, knowledge workers, and thinkers engaging with these ideas.
Normally, each member of an anti-book club summarizes a different book, but for this anti-book club, we're all going to help summarize just one: the Syntopicon. The essays at the beginning of each section are the heart of the Syntopicon, and they're also going to provide the source material for us.
Here is a brief description of how the Progressive Summarization method will apply to this project:
Find your assigned essay (PDF) in the shared Evernote folder
Extract the best parts of the essay in an app like PDF Expert or Polar Bookshelf
Copy the those highlights from the essay to a new note in Evernote (first layer)
Bold the best parts (second layer)
Highlight the best bolded parts (third layer)
Summarize the main points of the essay in 5–10 points at the top of the note (fourth layer)
Share: Right-click the note and click "Copy shareable link." Share that link with the rest of the group.
Here is a link to an example summary on the Wisdom chapter from the Syntopicon.
The anti-book club is a very effective strategy for dealing with the information overload of our day. It doesn't replace reading the full text, but allows your future self to remember what you've learned, and helps others to make better decisions about what to read.
In the case of the Syntopicon, an anti-book club gives you access to an index of ideas that will show up again and again in your reading.
Understanding these ideas and incorporating them into your thinking and research will make you a better reader and a better writer.
It will reveal surprising connections and insights between the authors you read, and it will give you an outside perspective that you can apply to politics, culture, history, and education.
Here's How You Can Get Involved
Right now, we're asking for volunteers who would be willing to help with the project.
Here is what we're asking from each person who joins:
Agree to read 1-5 chapter essays (your reading load will depending on how many people are involved)
Use progressive summarization to capture the 5-10 key points of each essay
Complete the reading and summarization by a specific due date
After you sign up, you'll be sent a link to a document where you'll be able to choose your topic(s). You'll also be given a deadline to complete the reading and summarizing.
At the end, we'll make all of these notes available to everyone in the group.
As a final stage in the projects, the goal is to move this information into a public Roam Research graph so that Roam users can add them to their own databases and start using them to find connections in their reading and research. (Conor White-Sullivan, Roam's CEO, cites the Syntopicon, and syntopical reading, as one of the inspirations for Roam Research.)
Sign-ups for the Syntopicon Anti-Book Club are now closed.
FAQ
What is an Anti-Book Club?
The Anti-Book Club is a creation of Tiago Forte. In an Anti-Book Club, rather than having everyone read the same book, everyone reads a different book on the same topic. Then, each person summarizes the book they read and puts it in a shared repository.
By dividing the effort of reading a large collection of works, it is possible to approach a complex topic in a fraction of the time it would take one person to read all of it. Along the way, this approach also produces a valuable collection of succinct book summaries that the group can easily refer to in the future, or share with others.
Do I need to buy the Syntopicon?
No, you will not be required to purchase a physical copy. We will give you access to an Evernote folder with the essay chapter(s) you will be summarizing for the anti-book club.
If you'd prefer to use a physical copy, that's not a problem. You would just highlight in the book and then transfer those notes to Evernote as layer 1.
Where can I find a physical copy of the Syntopicon?
The two-volume index from the original Encyclopedia Britannica collection is difficult to find and normally pretty expensive. Your best bet is to check out used booksellers (locally or online).
An easier option would be to purchase The Great Ideas: A Lexicon of Western Thought, which contains only the essays from the Syntopicon.
What's required if I participate?
When you join, you're committing to summarize 1-5 essays, depending on the total number of participants. The more people that participate, the fewer chapters you will personally need to summarize. You're also agreeing to finish the summarization by December 1st, 2020.
What do I get if I participate?
You get access to the Evernote folder with all of the Syntopicon chapters, and you'll get access to all of the chapter summaries (with each of the progressive summarization layers) when we're finished.
Do I have to use Evernote?
For the initial summarization and sharing, yes. But once the anti-book club is finished and all the notes are shared, you can copy them to your computer or to another note-taking app.
Is there anything specific you're looking for in these essays?
No, just whatever seems surprising, insightful, or resonates with you. We're not looking for an interpretation or analysis of the essay. Don't add your own thoughts or commentary. Just give a straightforward summary.
What is the ideal length of the notes?
There's no target length, but remember you want to be extracting the best parts, not trying to recreate the entire essay in miniature form. As you reread your notes to add subsequent layers, it should feel rich in insights, not like you're rereading the whole essay. People can always go back and read a particular essay in full.
Further Reading
If you enjoyed this post, give the Digital Productivity Coach a try. It's an interactive coach for digital productivity, available 24⁄7 to give you a feasible next step to improve your productivity skills.
Subscribe to my newsletter, my YouTube channel, or follow me on Twitter to get updates on my new blog posts and current projects. You can also support my work and writing on Patreon.