Earlier this year, my friend James Stuber posted this message on a Slack community that I run:

A lively discussion ensued, as a tribe of productivity nerds discussed the pros and cons of various entry points. We agreed that while there are many resources, none quite hit the sweet spot we were looking for. Sharing a full system like GTD and BASB seemed overwhelming; giving them tips like 'try a Pomodoro' seemed underwhelming.
James and I were graduates of the same cohort of Tiago Forte's course Building a Second Brain. We had mastered the material and applied it diligently at our work and in our personal lives. But we were starting to run into the same problem: friends and coworkers were asking us for help with their productivity skills. While we enjoyed having those conversations, they were time-consuming and we kept repeating ourselves. We knew there had to be a better way.
So James and I got to talking. We wanted to build a better map of the productivity territory, and ultimately, to build a tool that interactively teaches people productivity. We proceeded in stages.

Our first step was to closely analyze the existing maps that were available to us. The best in class was Tiago's Digital Productivity Pyramid.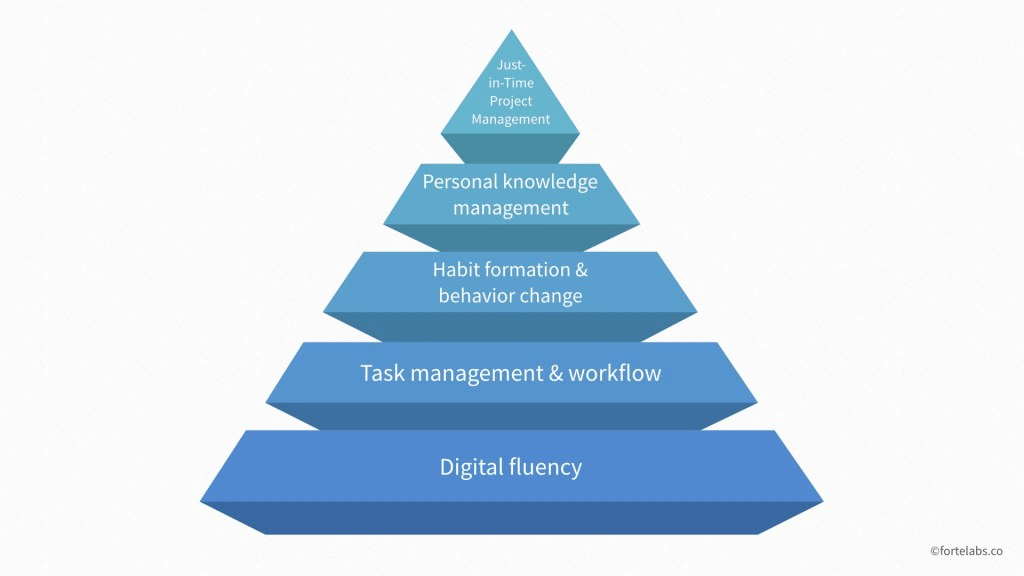 While the pyramid provided a clear scaffolding for how productivity skills build on and reinforce each other, it was not very practically useful for someone who wanted to improve. James and I knew what each of these stages meant from hours of work studying the relevant materials, but there was no way to point beginners to each of the steps involved in gaining the relevant skills.
Moreover, we felt that the pyramid was not ultimately the best metaphor for representing the content for practical instruction. Tiago states in the original article that the pyramid is non-linear; we saw that in practice, accurate diagnosis of skill level and linear progression of skill acquisition were critical to mastery. We decided that the metaphor of a skill tree was a better fit for our purposes.
We then proceeded to make maps that matched our needs. We proceeded through several versions. We started with an overall structure: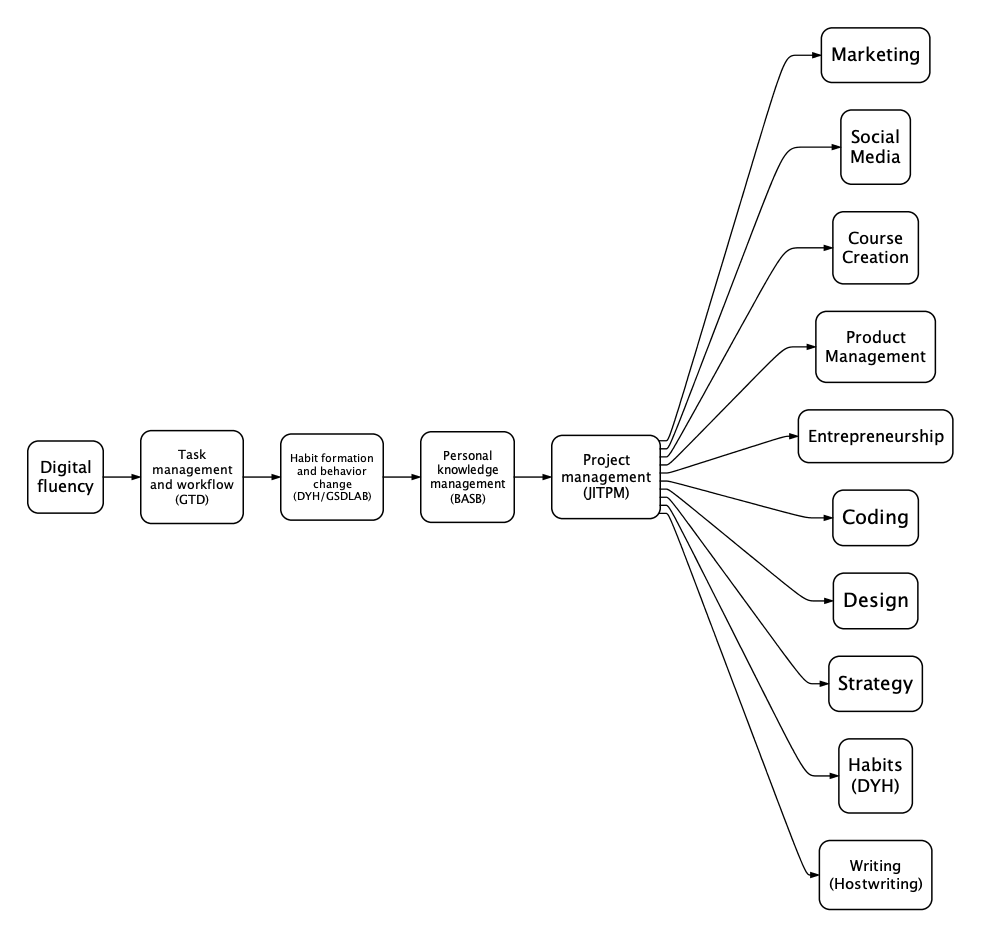 And drew a more detailed version out by hand: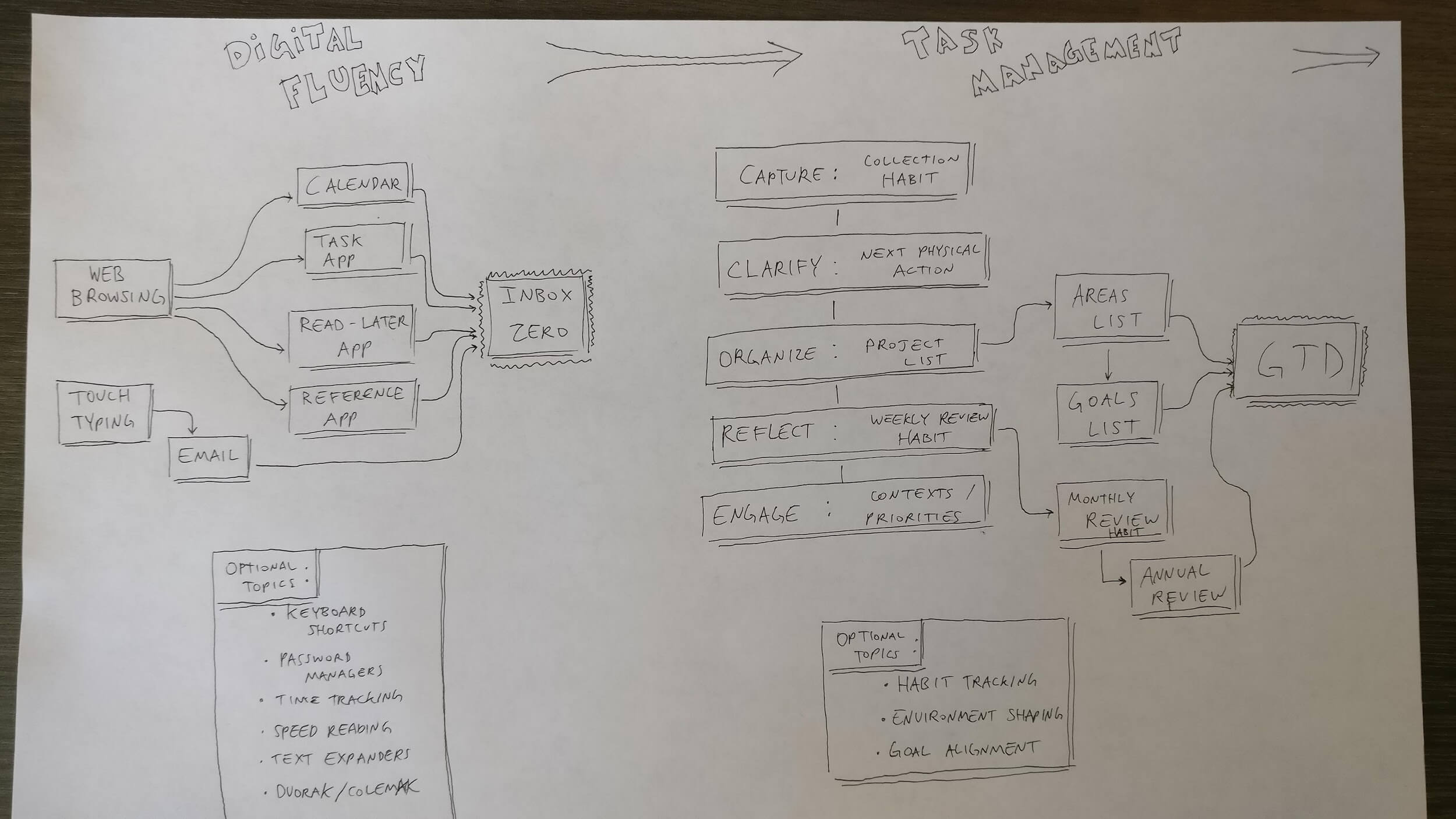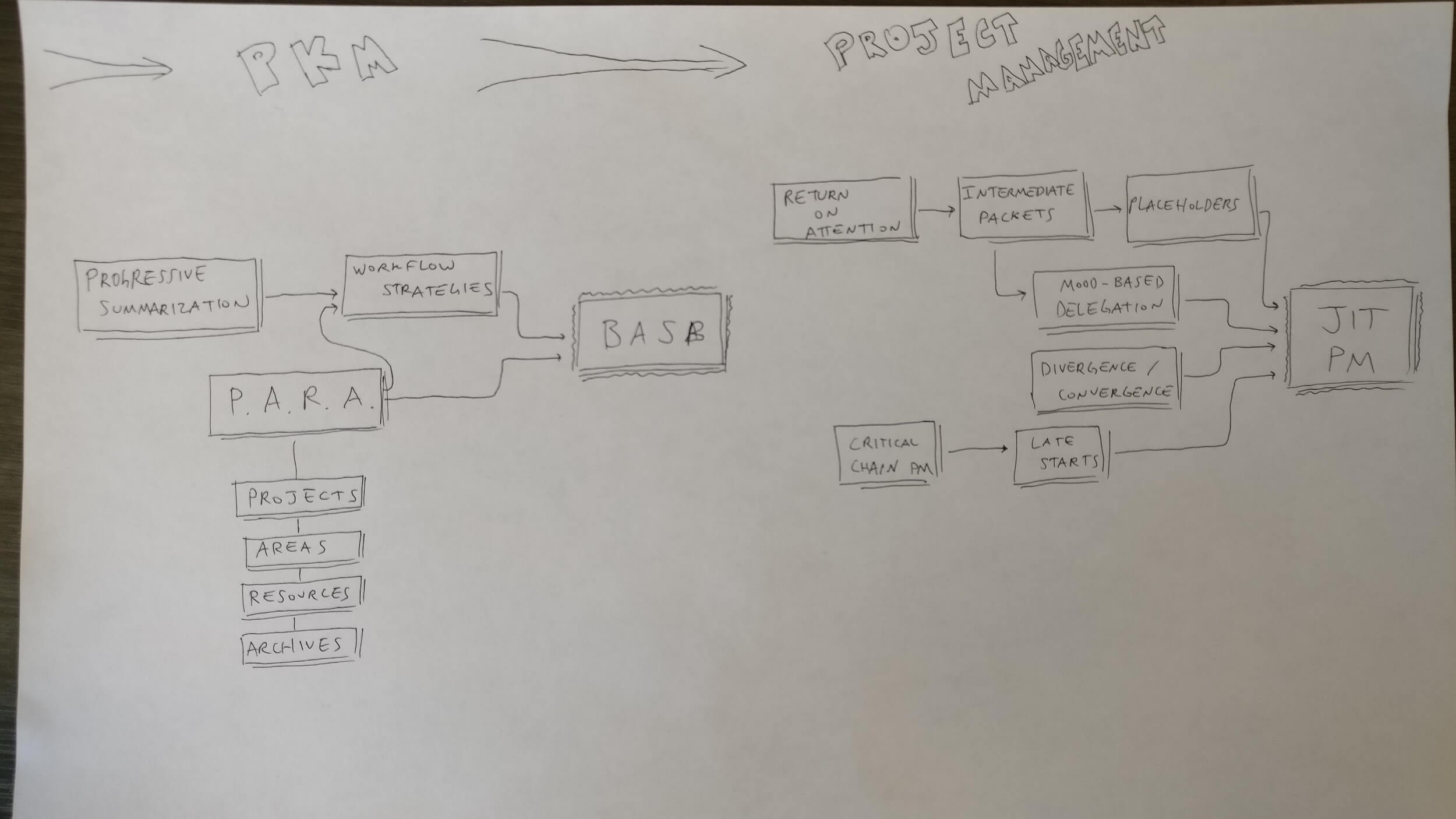 And then created a digital but hand-drawn version: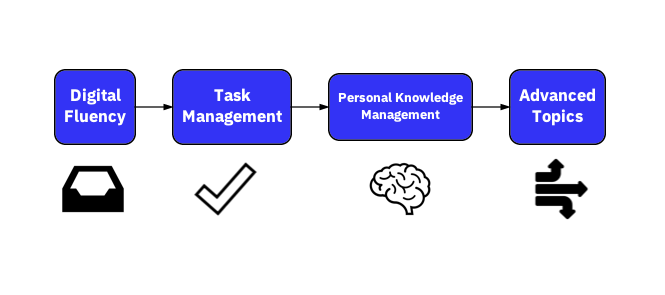 Ultimately, we arrived at this version:

At each stage of revising the map, we would test our map on willing guinea pigs, people who were asking us for productivity advice. With each trial, we squashed bugs and improved our understanding of the process.
I found working with James to be a delight. Part of that was because he is a kind, curious, and bright person who is fun to work with. But it made a huge difference that we both had high levels of productivity skills, and understood how each other worked. We could divide and conquer tasks according to our respective strengths, trusting that the other would accomplish that task in an excellent way and in a timely fashion.
We fell into a rhythm of work. We created a shared notebook in Evernote for the project for reference materials, while maintaining a project dashboard in Notion that kept track of the project status, stages, and next steps.
We chatted continuously on Slack, discussing our progress and tackling smaller problems asynchronously. Periodically, we would have brief (20-60 minute) phone or video calls on an as-needed basis. We would catch up personally, sync up on the state of the project, and brainstorm approaches to thornier problems.
One of the best parts of this process was that we leveled up our own productivity skills by working together, and learning from each other. At the top level, I learned a lot about the theory and practice of Just in Time project management from James. I also learned a handful of minor and almost indescribable tips and tricks from watching him work.
In retrospect, I think we pushed the edge of how to collaborate with productivity skills, and even entered some new territory – certainly at least for me but maybe also in the broader space. Despite the fact that we chose to represent the productivity territory as a linear progression that can be mastered, our map is not the territory, and in truth it is never-ending and also emergent, ever-changing.
As we transitioned to building a minimum viable product, we tried a few approaches before settling on building the Digital Productivity Coach in Notion. Notion would allow us to maintain a balance between making it easy for us to edit while ensuring the experience would be interactive for the user.
Here's what it looks like: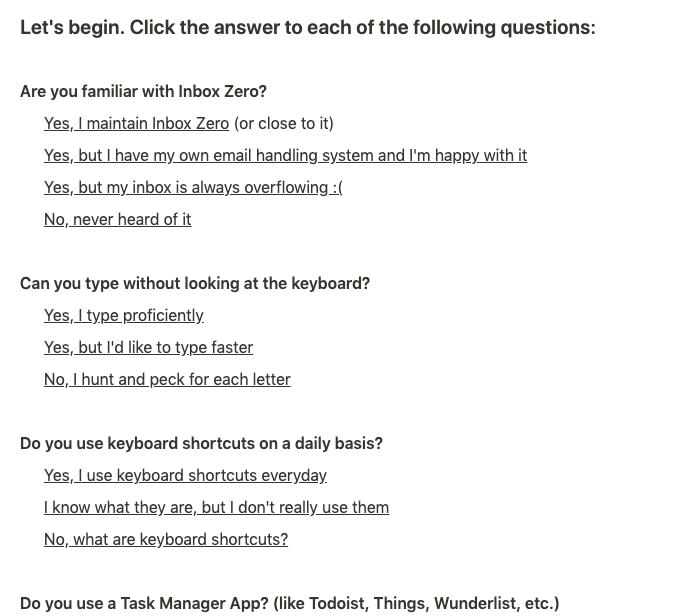 Sample questions from The Digital Productivity Coach.
The tool is now live and ready for people to use. We've already heard glowing reports from people about how it has helped them to improve their productivity skills – as well as feature requests for the next version.
I'm proud that the final version is freely available to monastics. One of my requirements for the project, from the start, was that whatever we created would be free to all monastics in our tradition in perpetuity. I wanted to train our residents – wise, loving people – with the skills of power that productivity affords, at scale.
So it was a big day for me, a dream come true, to share the Digital Productivity Coach with a number of residents at the Monastic Academy: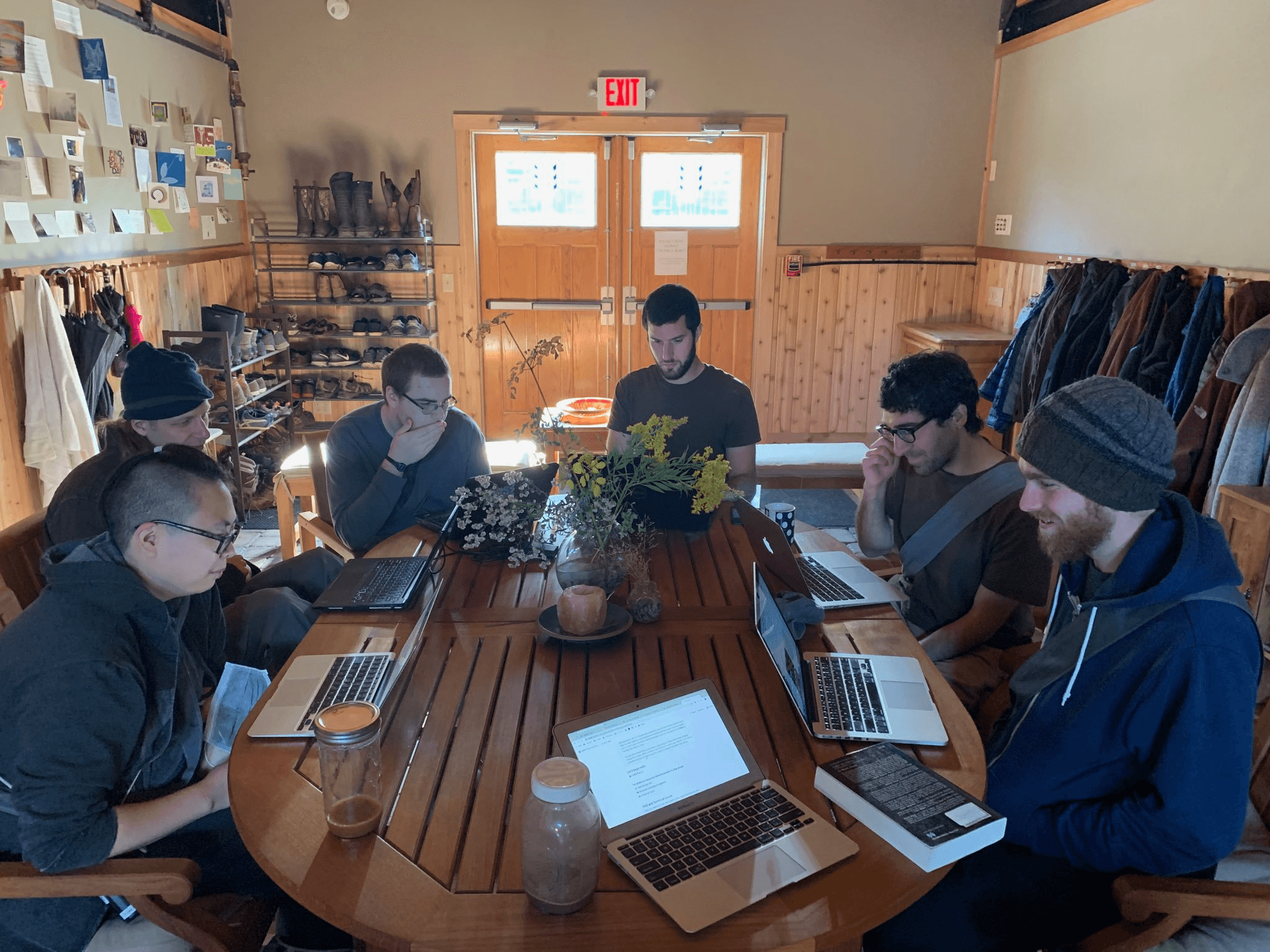 If you, too, want to improve your productivity skills, try the Digital Productivity Coach today.
If you enjoyed this post, consider subscribing to my newsletter, my YouTube channel, or following me on Twitter to get updates on my new blog posts and current projects. You can also support my work and writing on Patreon.