I'm launching an online course to help you build a meditation habit!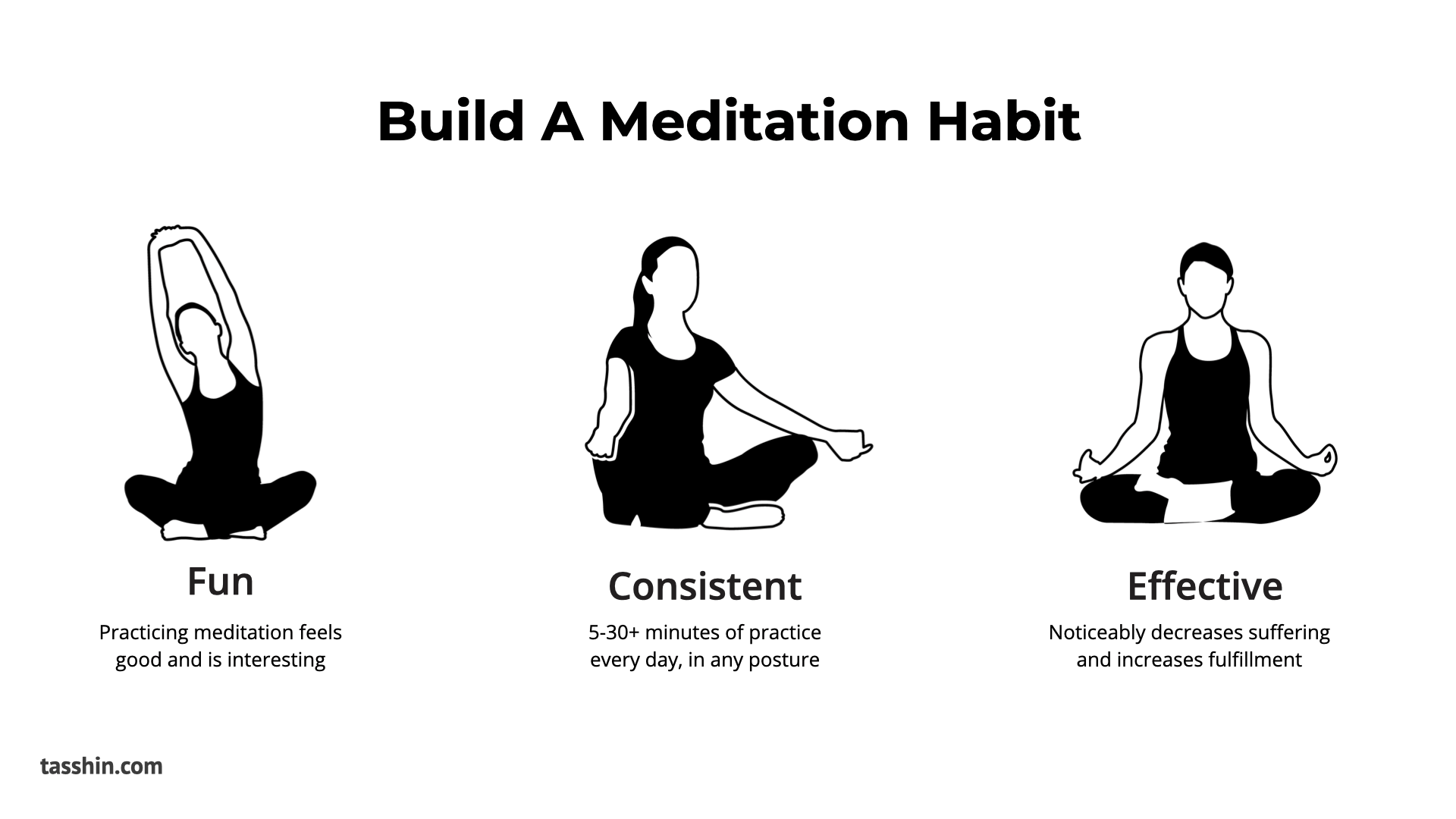 During the course, you'll develop a meditation habit that's:
Fun: Practicing meditation feels good and is interesting
Consistent: 5-30+ minutes of practice every day, in any posture
Effective: Noticeably decreases suffering and increases fulfillment
The main pillar of the class will be a daily meditation practice. During the course, you will meditate every day – for a minimum of five minutes! Five minutes a day is feasible for everyone, no matter how busy your schedule or how difficult you find meditation. Once you've established a consistent habit, you can add time at your own pace.
Each week, there will be a group class, with lecture, guided meditation, and discussion portions. The class will be offered twice, on Wednesdays from 7-8 PM ET / 4-5 PM PT, and on Thursdays from 4-5 PM ET / 1-2 PM PT. There will be five sessions, spanning twenty eight calendar days – a month of practice. Attending the weekly classes is optional but strongly encouraged. Recordings will be available after each call, should you wish to attend at a different time or review the material.
This course is offered on a sliding scale basis. All are welcome to participate, regardless of means. 10% of proceeds will be donated to Dharma Gates, a non-profit dedicated to connecting young people to deep contemplative practice (see my blog post on Dharma Gates here).
Course Content:
Habit Formation: How do habits work? How can we use the theory and practice of habit formation to develop a meditation habit? What tips and traps apply to forming a meditation habit in particular?
Meditation Theory: What is meditation? Why practice? What are the benefits of practice that we might want or expect? How should we approach practice over time?
Meditation Instruction: techniques and strategies to make meditation both fun and effective. Metta / Loving Kindness Practice will be a default technique, but we will also explore and be exposed to a variety of other techniques that may be more enjoyable or effective for you. There will be an emphasis as well on using alternative postures besides sitting: lying down, standing meditation (Zhan Zhuang), and walking meditation.
Course Format:
1 Month Course: Five sessions over four weeks, one live 60-minute class per week, hosted on Zoom. Class offered on two separate days to accommodate multiple time zones.
Course Work: Only requirement is daily practice of 5-30+ minutes daily.
Cost: Sliding Scale. Added fee if you miss a day of practice, as an incentive to maintain a daily practice.
Date: Starts April 7, ends May 5, meets once a week for 5 weeks to cover 28 days of practice.
Registration for BAMH! is now closed, but you can sign up to receive notifications about future cohorts here:
If you know someone who is trying to develop a meditation habit or might benefit from participating in this course, please consider sharing the course information with them.
Subscribe to my newsletter, my YouTube channel, or follow me on Twitter to get updates on my new blog posts and current projects. You can also support my work and writing on Patreon.